About
About Own The Dollar: This blog is designed with the goal to help people wade through the deluge of vague, boring, typcial finance information and find the truly important tidbits about personal finance such savings, investing, retirement, and other items that everyone should know. Here on the blog, we discuss a wide around of topics like your money issues, investing, saving, commentary, news, resources, tips, and try to help decipher some of the craziness of the stock markets and our finances in plain English.
People are sick and tired of having their money, or lack there of, running their lives. Own The Dollar, don't let your dollar own you!
Mainstream Media: Blog postings and articles from Own The Dollar have been featured in several mainstream media outlets such as Reuters and the Chicago Sun-Times newspaper. The blog has also been featured on several "Top Blog" lists such as Evan Carmichael's Top 50 Debt Blogs, eCollegeFinder.org's Top 50 Financial Mentors for College Students, and Bible Money Matter's "50 Personal Finance Bloggers To Watch in 2010".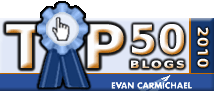 About the author: My name is Hank, and I have been where a lot of people are in their lives right now. My wife and I have battled back from a mountain of credit card debt and have now begun to plan for the future. We've recently begun investing for retirement, setting up an emergency fund, saving for our children's college, bought our first house, etc. So, every week, you will hear it straight from the horse's mouth how to accomplish your own goals thanks to our mistakes and triumphs. Together, we can all be successful owning our dollars and meeting our financial goals.
Disclaimer: I have a Bachelor's Degree in Business Administration and separate Master's Degrees in Corporate Finance and in Transportation and Logistics. Despite formal education, I am not a certified financial planner or professional. Any information shared on Own The Dollar does not constitute specific financial advice. The Website is intended to provide general information only and does not attempt to give you advice that relates to your specific circumstances. You are advised to discuss your specific requirements and circumstances with an independent professional financial adviser and/or lawyer.
Comments: Please feel free to leave any comments to the blogs posted here. Except for deleting the flood of spam the blog gets, I do not edit comments left by other people. I encourage everyone to give their opinions or tell me when mine are wrong. I love the back and forth dialogue and learning from each other. So, please leave a comment. I look forward to hearing from you.
Guest Articles: Guest articles are always welcome as long as the topics focus on the overall theme of this blog, basic personal finance tips for military members and their families. If you would like to submit an article to the blog, please e-mail me.
See you can see the blog's Full Disclosure and Privacy Policies.